2024 Nissan Pathfinder Model Review | Dave Smith Nissan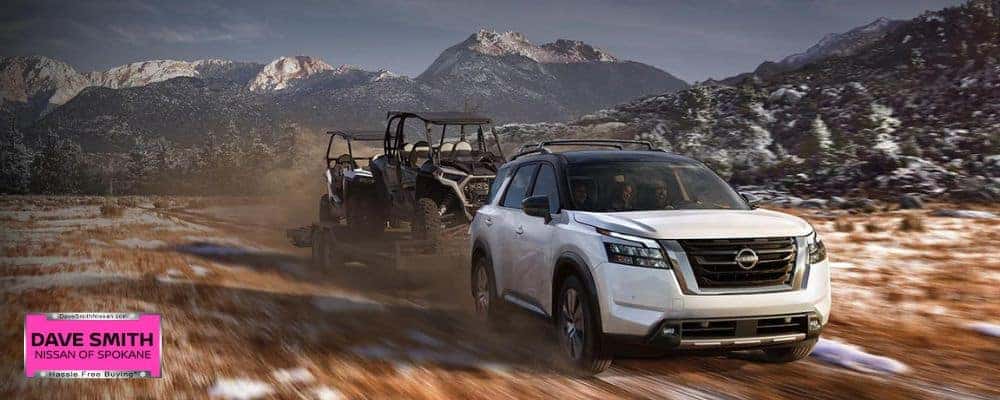 Over the years, SUVs have become quite popular due to their versatility, space, and abundance of features. While the Nissan Pathfinder made its appearance as fully redesigned a couple of years ago, the 2024 Nissan Pathfinder is still a testament to the SUV segment staying at the forefront of innovation and design. In this 2024 Nissan Pathfinder model review, we'll introduce some of the most notable features that make the 2024 Nissan Pathfinder an obvious choice for families and adventure seekers.
2024 Nissan Pathfinder Technology
When it comes to technology, the Nissan Pathfinder has come a long way. The latest models are equipped with cutting-edge features to boast, putting you in command of your adventure.
For starters, Pathfinder is available 12.3-inch widescreen digital dashboard is intuitive and user-friendly. The interactive dashboard allows you to view turn-by-turn directions, view alerts, or view which song you're wirelessly playing from your phone through the crisp Bose audio system. Our 2024 Nissan Pathfinder model review also notes USB ports and outlets, wireless charging, and NissanConnect® with Wi-Fi Hotspot around the vehicle, which will always give you peace of mind.
2024 Nissan Pathfinder Comfort and Safety
If there is one thing the Nissan Pathfinder is known for, it's its three-row seating. Despite being a 3-row SUV, the Pathfinder has plenty of built-in storage space and sizable leg room for the front and rear. The Pathfinder interior was thoughtfully designed with high-quality materials and adjustable seats, ensuring a comfortable journey whether you're commuting or embarking on a cross-country adventure.
And the thoughtful approach doesn't stop there, as safety is a top priority in the Pathfinder! With a suite of advanced driver-assistance features, like adaptive cruise control, blind-spot monitoring, lane departure warning, and automatic emergency braking being behind the wheel of a Nissan Pathfinder will make you experience a whole new level of confidence in driving.
2024 Nissan Pathfinder Performance
Under the hood, the Pathfinder is powered by a 3.5-liter V6 engine paired with a 9-speed automatic transmission that delivers ample power and torque, making it suitable for towing a maximum of 6,000 lbs and carrying heavy loads.
Not to mention, the Pathfinder has an available all-wheel drive system that provides excellent traction in road conditions like snow or rain. Whether you're tackling city streets or venturing off the beaten path, the Pathfinder's drive modes will suit your adventure.
Check 2024 Availability
2024 Nissan Pathfinder Trade-In and Finance
If you're interested in making the Pathfinder your own after reading this 2024 Nissan Pathfinder model review, Dave Smith Nissan is here to help. At Dave Smith Nissan, we offer competitive trade-in options to help you get the most value for your current vehicle.
Whether you're looking to trade in or not, our experienced finance team can assist you in securing the best financing terms to fit your budget. We have a range of flexible options to choose from, including leasing or financing.
Schedule a Test Drive at Dave Smith Nissan
While the 2024 Nissan Pathfinder model review highlights everything you need to know, the best way to experience the 2024 Nissan Pathfinder is by scheduling a test drive at Dave Smith Nissan.
If you're ready to experience a modern driving adventure, visit us or get in touch with us to schedule your test drive at Dave Smith Nissan!