Nissan Designed to Thrill in Spokane, WA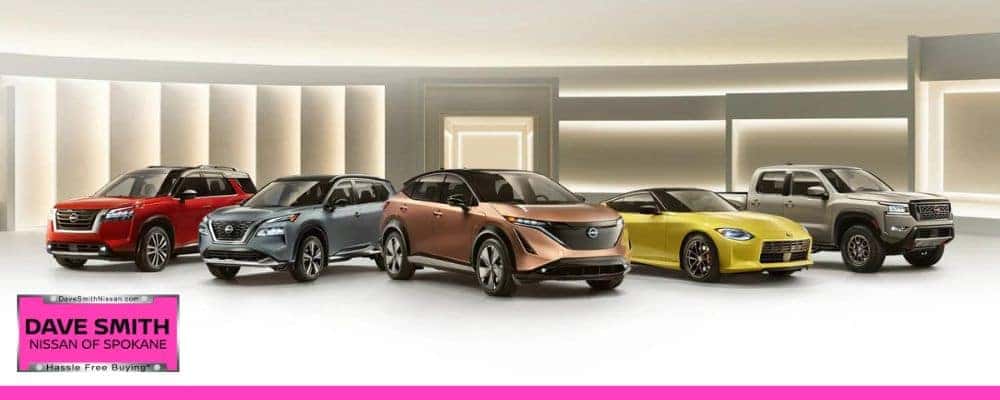 No matter what Nissan model you decide is the best fit for you, know that all Nissan models are designed to thrill. Whether it be their impressive performance stats, designs, interiors, or affordable price tags, Nissan vehicles are dropping jaws like never before. Designed to innovate, excite, and otherwise blow you away, Nissan vehicles are in a league of their own.
Nissan Lifestyle
There are near endless ways owning a Nissan can improve your lifestyle in the Coeur d'Alene, ID, area. From groundbreaking designs to affordable access to modern technology features, Nissan strives to make excellence accessible to all. Countless happy Nissan owners have stories about how their Nissan cars or SUVs have changed their lives for the better. Nissan also celebrates culture and diversity, because without it, Nissan would not be the company it is today!
Nissan Electric
Nissan is doing its part to help make the world a better place. Focused on the future of personal vehicles, Nissan is making strides in electric vehicle technology. With two fully electric models in the Nissan LEAF and Nissan ARIYA, Nissan has already given us a glimpse of life without a dependence on gasoline. Nissan's electric vehicle technology is fascinating and continues to improve each month. With so much innovation taking place, we can't wait to see what the future holds.
Nissan Performance
Nissan is no stranger to high-performance vehicles. Whether it be their role in the racing scene, or the performance features they add to consumer vehicles, Nissan engineers never seem to disappoint. Whether you're looking at sports cars like the Nissan Z and GTR or SUVs like the Nissan Armada, performance can play a role in many ways. Nissan understands how important performance is to most car buyers and strives to mold each model's performance stats perfectly to their intended purpose.
Nissan Technology
As leaders in automotive innovation, Nissan offers incredible safety and technology features. While specific interior technologies vary from model to model, trim to trim, you can always trust you're getting the best with Nissans near Post Falls, ID. On top of interior technology, Nissans also have incredible safety features designed to keep you and your loved ones out of harm's way. Nissan's Safety Shield 360 safety package is inclusive and will have you driving with peace of mind.
Nissan Finance
Nissan is here to help you make smart financial choices. For starters, many Nissan trims have affordable base prices, making them excellent choices for anyone on a budget. On top of that, Nissan dealerships like Dave Smith Nissan in Spokane, WA, have finance departments located on sight. With experts on standby ready to help you with your loan or lease, making an informed financial decision has never been easier. Whether you need consultation on the right financing option or you need help figuring out how to lower your monthly payment, Nissan is here to help in any way we can.
Apply Now